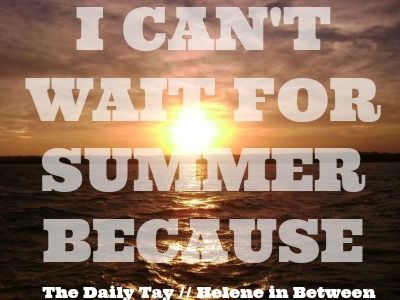 summer come quick! in anticipation for warmer weather, i'm linking up to share why i can't wait for summer! tomorrow is the first day of spring, but of course we are expecting one last bit of snow :(
i can't wait for summer because...
we have a few friends getting married this summer and i can't wait to share their special day!
cook outs! we just used our grill for the first time tonight and i can't wait to use it more often! i see many grilled dinners(and dinner parties!) in our future...
we can go out on the lake in a boat or to swim...no more of this walking on top of the lake...
i will get to see my family! i haven't seen them since my wedding, and even that weekend didn't include too much quality time because it was super busy..
there will be colors outside. its been a whole lot of black and white out here in michigan...
blogging is just a bit easier. it seems like the days have gotten a little more boring as winter has progressed this year, and summer is always packed full of activities like fairs, food festivals, parks, farmers markets, beaches, backyard parties...dare i keep going?
can you wait for summer to start? i am thankful to live in a state that actually has 4 seasons to show for, but when winter is this long...its easy to wish i lived in a warmer climate :)
-e-